Prospector 18A Flight Test 1
(P-18A FT-1)
05 March 2011
FAR Test Site, CA
P-18A Riding the 57-ft Launch Rail
The GSC/CSULB team successfully undertook the initial check-out flight of the Prospector 18 suborbital RLV test platform at the FAR test site on Saturday, 05 March 2011. The objectives for this Flight Test 1 included validating core system functionality and pathfinding streamlined sRLV processes and site operations. This initial "P-18A" configuration is derived from numerous previous Prospector vehicles and featured the first in-flight use of a long-duration silica-phenolic ablative engine chamber that has been developed and static fire tested in preparation for NLV applications. The use of a larger parachute for the recovery system resulted in a very benign landing and the vehicle will require only minor refurbishment to return to flight status.
The P-18A manifested multiple academic and STEM payloads, including a CubeSat-derived avionics package from Cal Poly San Luis Obispo and a Zigbee-based IMU wireless telemetry experiment developed by CSULB students. Data from the latter will be used to support an eventual FAA amateur class 3 waiver request (for this first flight, propellant load, burn time and thrust were constrained to keep within the envelope of an existing class 2 waiver). In addition, 50 lb of steel plate ballast was flown to control the center-of-mass - ballast that could be replaced with useful payloads in the future.
Preparations for Flight Test 2 are now underway. It is expected to take place in the next few months, contingent in part upon the readiness of candidate payloads.
Additional Photos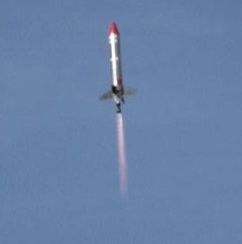 P-18A in Flight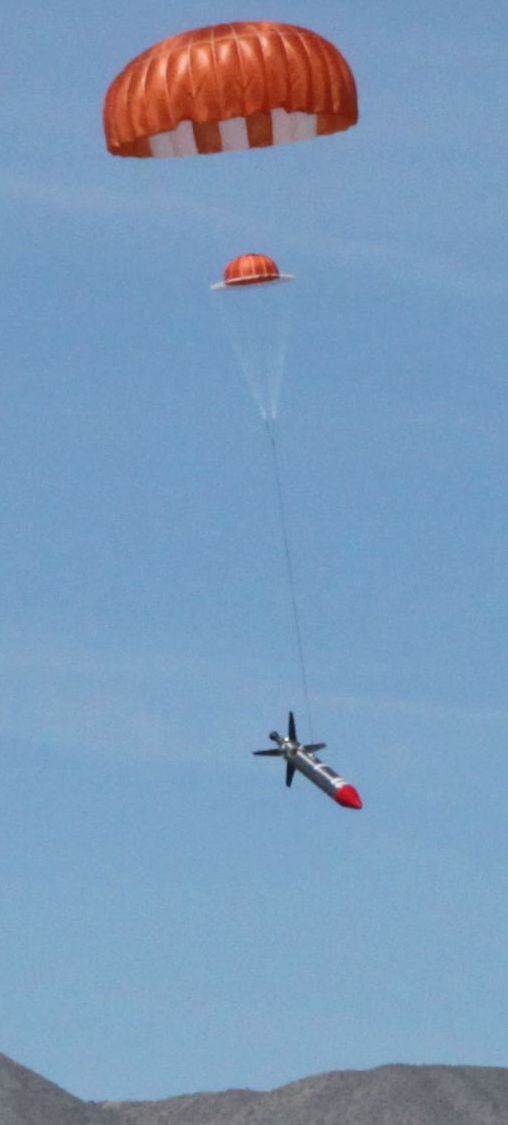 Parachute Deployed
Post-landing with CSULB student members of the launch crew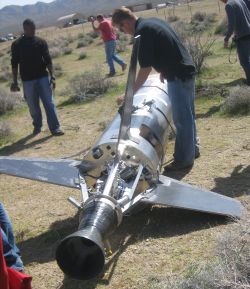 Post-landing inspection underway
Some of the 50 lb of steel plate ballast "payload" needed for center-of-mass management, plus a
Buzz Lightyear STEM payload flown on behalf of a first grade class at an elementary school in Long Beach, CA
_________________________________
Last Updated: 14 March 2011