Prospector 18B Flight Test 2
(P-18B FT-2)
16 April 2011
FAR Test Site, CA
P-18B in Flight with LOX/ethanol 4.5K Engine
The GSC/CSULB team successfully undertook the second flight of the Prospector 18 suborbital RLV test platform at the FAR test site on Saturday, 16 April 2011. The objectives for this Flight Test 2 included validating continued refinement of sRLV refurbishment processes and site operations, evaluation of enhancements to the recovery system and the manifesting of several wireless sensors provided by the University of Maine. The vehicle achieved the forecasted peak altitude of 2,200 ft after a 3-second burn that was determined by the reduced propellant load needed to stay within the total impulse limit of the Level 2 waiver under which the flight was conducted.
This "P-18B" configuration is a refurbished and slightly modified version of the P-18A that previously flew in early March 2011. It featured the same long-duration silica-phenolic ablative engine chamber that has been developed and static fire tested in preparation for NLV applications. The landing again was benign and the core vehicle will require only minor refurbishment to return to flight status. However, on-board video (see below) confirmed pre-flight concerns that several of the fins are interfering with the deployment of the main parachute. Evaluation is now underway of candidate options to further mitigate the risk of a more serious entanglement on future flights.
The P-18B carried multiple academic and STEM payloads, including experiments developed by UMaine's Wireless Sensor Networks Laboratory, known as the WiSE-Net Lab. In an important step towards a sustainable sRLV capability, UMaine helped to co-sponsor this flight. Plans for the next P-18 mission are now in development.
Additional Photos

CSULB Student Launch Team

On-Board Camera View of Engine Ignition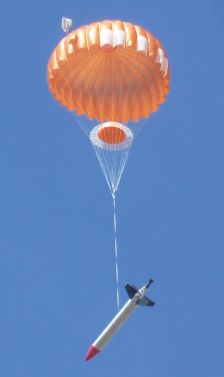 Parachute Deployed
UMaine Payload Team
UMaine Data Acquisition Modules
_________________________________
Last Updated: 26 April 2011