Prospector 18C Flight Test 3
(P-18C FT-3)
20 August 2011
FAR Test Site, CA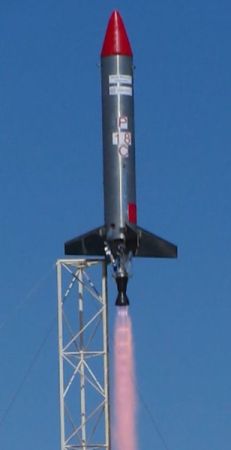 P-18C Leaving the New FAR 60-ft Launch Rail on Flight Test 3
The GSC/CSULB team successfully undertook the third flight test of the Prospector 18 suborbital RLV test platform at the FAR test site on Saturday, 20 August 2011. The objectives for this Flight Test 3 (FT-3) included a) pathfinding operations with a newly available, longer and more robust launch rail, b) attempt of a two-step parachute recovery with the addition of a drogue parachute and c) an increase in the total propellant load and therefore the engine burn time - made possible by a recently-issued FAA Class 3 waiver.
This "P-18C" configuration is a refurbished and enhanced version of the P-18B that previously flew in April 2011. It featured the same long-duration silica-phenolic ablative engine chamber that has been developed and static fire tested in preparation for NLV applications. Data indicates that the engine burned nominally, although the duration of 5 seconds was 1 second shorter than anticipated. This reduction is now attributed to a higher-than-predicted level of propellant "dumping" during engine start-up. Consequently, peak altitude was 3,200 ft AGL versus the predicted 4,900 ft AGL.
During recovery, the new drogue parachute deployed at apogee per plan, with the pilot and main parachutes following at 1,500 ft AGL. However, the main parachute only partially deployed, the result of entanglement of the line between the main and the pilot. This led to a higher impact velocity than on the first two flights. The airframe experienced more extensive damage than before, but it is still refurbishable and all high value items like the engine, valve assembly and parachutes survived intact and functional.
In contrast to FT-1 and FT-2, we were unable to recruit any externally-provided payloads for this flight. CSULB students again manifested several video cameras which have been critical in evaluating parachute behavior, a data-logging experiment and a Zigbee-based real-time IMU telemetry package.
Future plans for the P-18 are still being defined. Meanwhile, corrective actions related to parachute deployment are now being incorporated into the recovery systems on several other vehicles that are scheduled to fly in the near-term.
<! Ground Video from Observation Bunker>
<! On-Board Video of Main Parachute Deployment>
Short Ground Video of Lift-off, followed by Slow Motion Version

On-board Video Focusing on Drogue Parachute Deployment
<! On-Board Video of Drogue Parachute Deployment>
On-board Video Focusing on Main Parachute Deployment
Additional Photos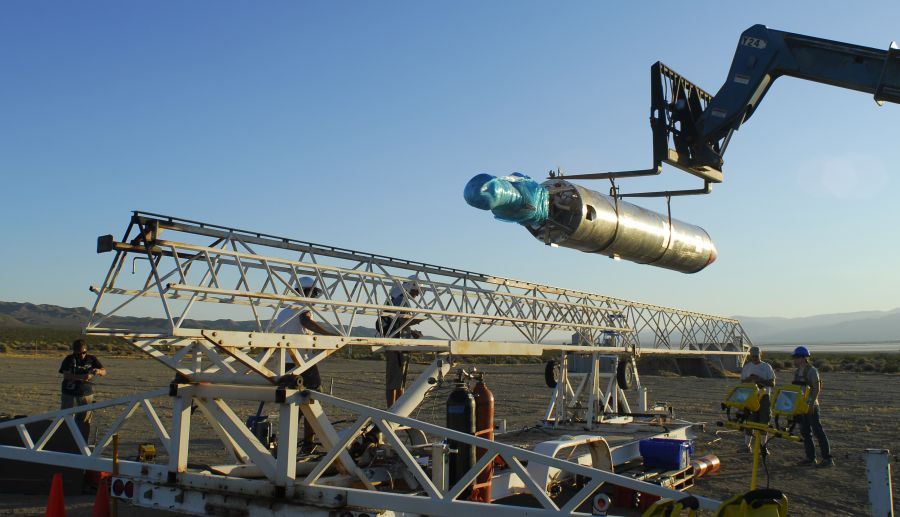 Enhanced Vehicle Mounting Operations Using a Forklift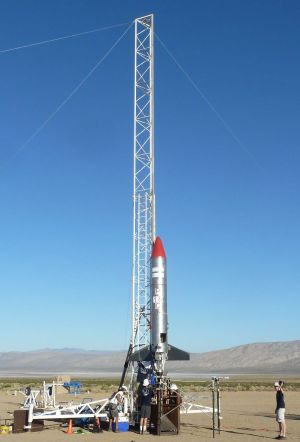 P-18C Vertical on the New 60-ft Launch Rail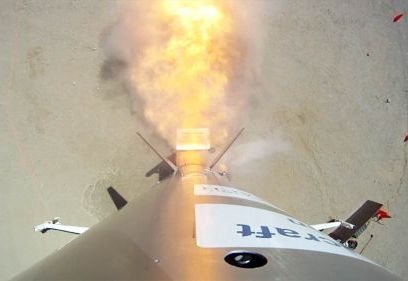 On-Board Camera View of Engine Ignition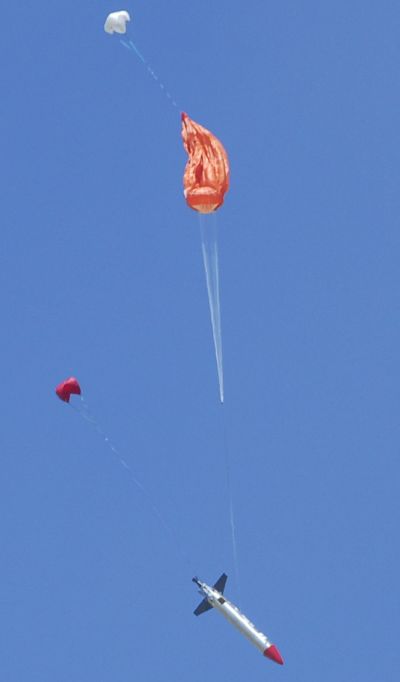 Drogue (red), Pilot (white) and Partially-deployed Main Parachute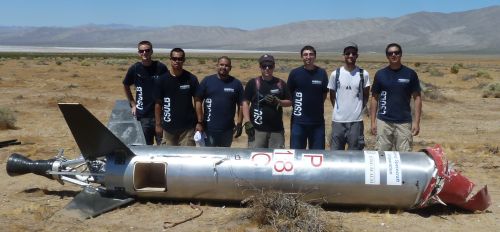 Post-landing: P-18C and CSULB Student Team Members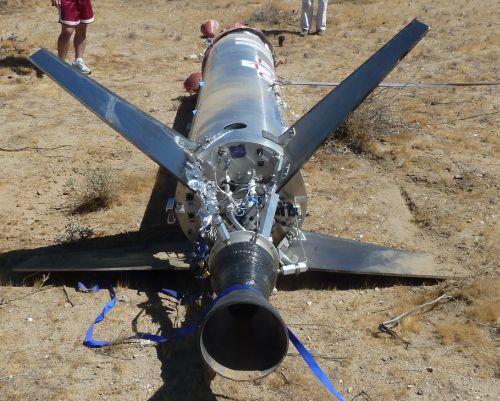 Intact Engine and Main Valve Assembly
_________________________________
Last Updated: 18 September 2011