Prospector 18D Flight 4
NASA High Altitude Launch Service for
Demonstration Nano-Satellites - Launch 1
08 December 2012
FAR Test Site, CA
P-18D Performing the First Operational sRLV Flight under the NASA LSP HALS Program
(Garvey Spacecraft Corporation photo)
The GSC/CSULB team conducted the first operational mission and fourth flight overall of the Prospector 18 suborbital reusable launch vehicle (sRLV) on Saturday, 08 December 2012 at the Friends of Amateur Rocketry (FAR) test site outside of Mojave, CA. This was the first contracted launch performed for NASA's Launch Services Program (LSP) under the High Altitude Launch Service (HALS) for Demonstration Nano-Satellites program. Through this program, NASA LSP intends to provide streamlined, dedicated suborbital launch opportunities to the emerging community of CubeSat and Nanosat developers and users while refining concepts, metrics and processes for eventual orbital launches.
The P-18D configuration featured several modifications to meet NASA's requirements, most of which were associated with payload accommodations. For this initial flight, the primary payloads consisted of a PhoneSat experiment provided by NASA Ames and an instrumentation package from California State Polytechnic University, San Luis Obispo (Cal Poly SLO). Preliminary data analysis indicates that the vehicle reached a peak altitude on the order of 15,000 feet.
Planning is now already underway for the second operational P-18D flight, currently scheduled for spring 2013.
View of Liftoff From the Base of the Launch Rail View from Observation Bunker

CSULB and Cal Poly SLO Student Members of the P-18D Flight Team
(Garvey Spacecraft Corporation photo)

P-18D At Ignition
(Garvey Spacecraft Corporation photo)

P-18D Leaving the Launch Rail
(Garvey Spacecraft Corporation photo)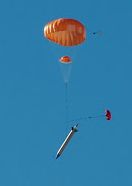 P-18D Descending After Deployment of the Main Parachute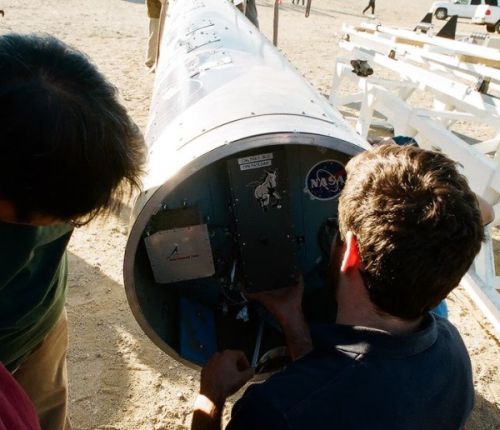 .Removal Underway of the NASA Ames PhoneSat Experiment (Left) and a Cal Poly SLO Instrumentation Package (center) After the Flight
(Garvey Spacecraft Corporation photo)

P-18D Being Off-loaded After Delivery from Long Beach
(Garvey Spacecraft Corporation photo)
P-18D Being Loaded for Return to Long Beach After the Flight
(Garvey Spacecraft Corporation photo)
_________________________________
Last Updated: 20 December 2012